The Story of Icarus and Daedalus is a tragic one that teaches an important lesson: aim for the sun, but know how to stay within your limits. Icarus Learning Solutions offers products and services that allow educators to make virtual learning possible and transformative without getting burned. Therefore, the Story of Icarus and Icarus Learning Solutions are connected, yet the story of Icarus Learning Solutions has only just begun.
The story of Icarus Learning Solutions therefore is one of caution and support. We believe that every product and service with offer have the potential to disrupt and innovate virtual learning experiences, and we strive to help educators achieve these lofty goals with ease.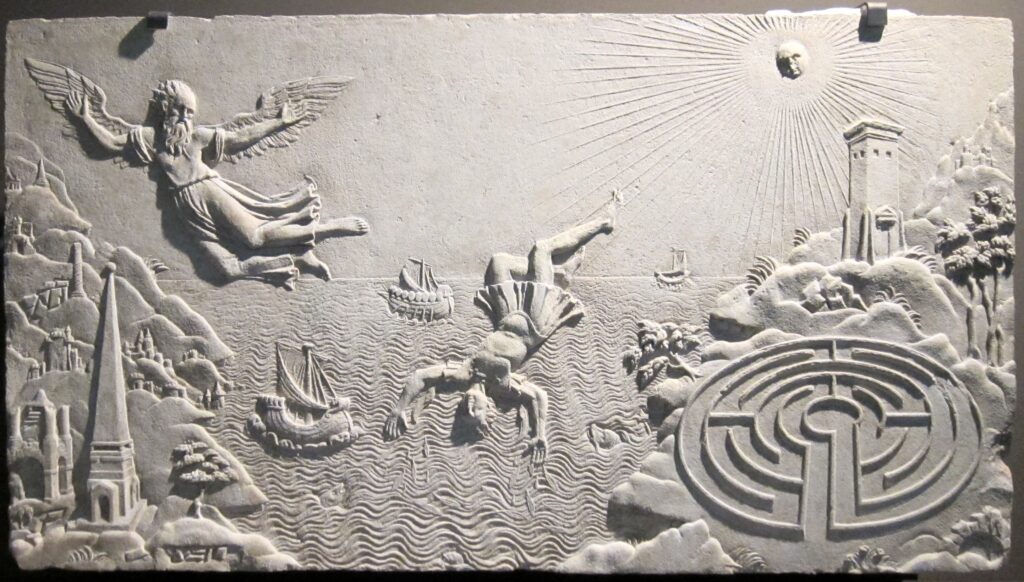 ---
Minoan Mythology and the Story of Icarus
Icarus was the son of Daedalus, the master craftsman who build the Labrynth for King Minos to trap the Minotaur. He was banished for providing the ball of string that helped Theseus escape the maze. So he made wings out of wax and feathers for himself and Icarus to escape Crete. He said to Icarus: 'don't fly too low or too high' because the dampness from the water may clog the wings or the sun's heat may melt the wax. Icarus ignored the second instruction He was so enthralled with flying he flew so high that the max melted and he fell to the sea and drowned. Icarus therefore died of hubris, coining the idiom "don't fly too close to the sun." The story of Icarus has much to teach us about how to work within our means, but still pursue a path of ambition that reaches the highest heights.
---
Why Icarus Learning Solutions?
Icarus flew too close too the sun and perished, yet his thrill for soaring high lives within us all. The lesson for history is that we understand our limits and act responsibly within them at all times. Icarus Learning Solutions heeds this important moral of the original story and applies it to technological integration for teaching and learning professionals.
As educators, it is important that we shoot for the stars, since we expect our learners to do the same. Set lofty goals, but be aware of the 'ceiling' where the wax starts melting and stay just under it. We should incorporate the latest technological tools, because it will allow us to teach more effectively and provide interactions that our digital native learners require.
Yet we should make sure these tools are reliable and have proven to be effective. Icarus Learning Solutions works to keep educators ahead of the educational technology innovation curve. However, we will not offer any new or experimental technology that hasn't been thoroughly vetted or trialed with teachers and learners in the right context.
The Educational Technology Adoption Lifecycle and "Innovators" at Icarus Learning Solutions
The Rogers bell curve identifies the stages of technological adoption in society. There are advantages and disadvantages of adopting technology at various stages through the chart. We at Icarus Learning Solutions always strive to be "Innovators" in the realm of learning technologies and their application. This way, we can learn how the systems operate and work out all the bugs in house before fully integrating them at our client institutions.
"Lighthouse" Teachers and Early Adopters Help Write the Story of Icarus Learning Solutions
Our customers may be at various stages of the innovation adoption lifecycle. Early adopters, or "lighthouse customers" give back to Icarus Learning Solutions by providing considerable and candid feedback to help refine our products and services. By opting more a more revolutionary solution, early adopters also get an extremely comprehensive customer support package.
The lighthouse customer is always given a great degree of support and service at no extra charge. This ensure the long term success and growth of the product or service. At ILS, many of our language technology, machine learning and augmented reality services, for example, receive this extra care and attention from our team. As a result you get what you pay for, and more.
"The Majority" and Best Practices of Education at Icarus Learning Solutions
Majority users make up the status quo of technology. In the area of educational technology, this means using a Learning Management System to host both synchronous and asynchronous courses. It also means using interactive e-learning tools in those courses and in classes on Smartboards or virtually through Zoom.
It also means being up to date with the latest design and instructional design trends for virtual learning environments. Kope and Kalantzis, (2015), discuss e-learning ecologies, which open up genuine possibilities for what is called "New Learning – transformative, 21st century learning".
At ILS, our team of professionals is up to date on best practices of teaching and learning. We use the latest technology to enhance the learning experience remotely.
Supporting the "Laggards" with Icarus Learning Solutions
"Laggards" are plentiful, and there are a great many very late technology adopters in the field of learning. The current post-pandemic world of reduced travel and social distancing has transformed how we interact. Learning has been affected, and many are forced far outside their technological comfort zone.
At ILS, we believe it is now more important than ever to support teams with fundamental skills of using technology to teach remotely. We offer ELearning support for Zoom teaching, and provide user-friendly themes on Moodle or IONIC LMS. User experience (UX) and user-centered design (UCD) are key considerations in all the products and services that ILS brings to the table.
Icarus Learning Solutions. Our 'Wax' Won't Melt…
The pace of technological growth and development is mind boggling. As educators it is easy to get left behind as we are often too busy with program development and student support to be spending hours testing and struggling with new, untested technology.
At Icarus Learning Solutions we research the newest ways to make teaching and learning online more interactive. For many, it will never be as good as face to face. But learning with technology can be incredibly engaging and stimulating as well as extremely convenient. Let Icarus Learning Solutions be your guide. We bring the newest latest time-saving, interaction-enhancing solutions for remote teaching and distance learning. And unlike in the story of Icarus, son of Daedalus, our wax will not melt.